雾霾!雾霾!!

On Dec. 5, 1952, a thick layer of fog settled over the streets of London, blanketing the city. This was no ordinary wintery mist, but rather a noxious haze of sulfur dioxide from coal-fired industrial factories and cookstoves in London homes. London's Great Smog hung in the air for five consecutive days; visibility was reduced to mere feet and cars were abandoned or led off the road by police with traffic flares. It was the "nation's worst air pollution disaster" and remains the deadliest smog event on record. According to the Telegraph, the devastation the smog wrought "only became apparent when undertakers reported that they were running out of coffins and florists had sold all their flowers." In the following three months, an estimated 13,000 people died of respiratory complications. 
  1952年12月5日,厚重的浓雾笼罩着伦敦的街道,覆盖了整座城市。这并不是寻常的冬雾,而是燃煤工厂和伦敦家户炉灶产生的二氧化硫有毒雾霾。伦敦大雾连续不断地持续了五天;可见度降低到仅仅一英尺,人们放弃了车辆,或是接受交通闪光装置的引导。这是"我国最糟糕的空气污染灾难",并仍然是记录在册的最为致命的雾霾事件。根据英国《电讯报》,雾霾造成的破坏"直到殡仪业者说他们耗尽了所有的棺材,花商卖尽了所有的鲜花,才逐渐显现。"在接下来的三个月里,据估计约有13,000人死于呼吸系统并发症。
The hazy scenes of London's Great Smog bear a striking resemblence to modern-day images of China's urban centers on their most polluted days. And though China has never had an event to match those four days in London, its pollution problem is persistent and pervasive. In 2010, air pollution contributed to 1.2 million deaths in China. Between 1981 and 2001, particulate levels in its major cities were five times greater than what the United States experienced before 1970. And the problem is worsening at an incredible rate. In 2009, the concentration of particulate pollution in the Chinese city of Harbin averaged 101 micrograms per meter, according to the World Health Organization. Four years later, in October 2013, levels were up tenfold, a new record.  
  伦敦大雾的朦胧景象与中国城市中心在污染最严重的日子里的现代影像有着令人注目的相似。虽然从未有过能比得上伦敦那四日的事件,但是中国的污染问题持续而普遍。在2010年,大气污染在中国造成了120万人的死亡。在1981年至2001年之间,中国主要城市的颗粒物等级是美国在1970年以前颗粒物等级的五倍。并且,问题以惊人的速度恶化。根据世界卫生组织,在2009年,哈尔滨颗粒物污染的浓度达到了平均每(立方)米101微克。四年后,2013年十月,颗粒物等级上升了十倍,这是一个新记录。
this week, Gina McCarthy, the new head of the Environmental Protection Agency (EPA), said she would be meeting with partners in China in the coming days to address air pollution issues, but was careful to stress that this is not an challenge limited to China. The West, too, has faced hazardous pollution. "We have been there before," she said on Monday, Dec. 2. The comparison bears consideration; what follows is a series of photo pairings — smog in London then, and in China now. 
本周,美国环境保护署(EPA)新负责人吉娜·麦卡锡提到,她将在接下来的几天与中国的合作伙伴会面以处理大气污染问题,并且,她仔细强调了这并非是局限于中国的挑战。西方世界也面临着危险的污染。"我们曾是那样,"12月2日她这样说到。这样的比较承载着思考;接下来是一系列的配对照片——彼时伦敦的雾霾,和此时中国的雾霾。
Above left, a woman in Changchun, China walks along a road on Oct. 21, in a dense smog that forced business, school, and road closures. On the right, a woman in London wears a protective mask in Nov. 1953 during a smog episode nearly a year after the city's deadly Great Smog. 
上左图,长春,10月21日,一名女子走在雾霾的路上,这场雾霾迫停了商业、学校和交通。上右图,伦敦,1953年11月,一名女子戴着面罩,在该城致命的大雾之后,雾霾期延续了近一年。
London's Great Smog rolled into city's streets on a "mass of cold air," and remained, trapped by a layer of warmer air above. PM 2.5 — the mass, in micrograms, of particles larger than 2.5 micrometers in a cubic centimeter, a common measure of hazardous air pollution — rocketed to 1,600, a record China has yet to approach even on its worst days. 
伦敦大雾在"一团冷空气"之上翻滚着进入城市的街道,受困于上方的暖空气而滞留。PM2.5——以微克计算一立方厘米中大于2.5微米的颗粒物的质量,是一种对危险的大气污染的常见测量——迅速增至1,600微克,中国在其最糟糕的日子里也未曾接近过这个记录。
Perhaps the closest China has come was the smog that settled over Harbin, a city of 10 million people in northeast China, in October. As PM 2.5 climbed to 1,000, the city effectively shut down, closing schools, airports, and highways. 
中国最为接近的也许是十月哈尔滨降下的雾霾,这是中国东北一座拥有一千万人口的城市。PM2.5攀升至1,000,该市有效地停工停业,学校停课、机场关闭、高速公路封闭。
Above top, Beijing residents ride a bus through smoggy streets on Jan. 23. Below, a bus passes Christmas shoppers on London's Regent Street, on Dec. 5, 1952. 
上图,1月23日,北京居民乘坐公共汽车穿过雾霾弥漫的街道。下图,1952年12月5日,公共汽车穿过伦敦摄政街上的圣诞节购物者。
The Great Smog of 1952 prompted Britain's 1956 Clean Air Act, which led to legislation in the United States. In New York, in particular, pollution had become a major problem: particularly deadly clouds of smog were blamed for 200 deaths in 1963 and 168 more in 1966. These events were pivotal in motivating Congress to establish the EPA and pass landmark clean air laws. Like China today, most of that pollution was caused by burning coal and, to a lesser extent, by heavy traffic in cities like Los Angeles. 
1952年的伦敦大雾催生了英国1956年的《清洁空气法案》,这也导致了美国立法。尤其在纽约,污染已经成为主要问题: 1963年200人的死亡和1966年168人的死亡被归咎于致命的雾霾云。对于国会建立EPA并通过里程碑式的《联邦清洁空气法》而言,这些事件起到了关键作用。就像今天的中国,绝大多数的大气污染是由燃煤造成的,在较小的程度上,是由繁重的城市交通造成,就像洛杉矶。
"We know what planning can do," McCarthy said of the EPA's work with China. "We know there are many ways in which you can engage your states, and in China's case provinces, to bring a sense of urgency to this issue."
"I am hopeful," she said. "One of the reasons I am hopeful is that I know what we've been able to accomplish in the United States."
对于美国EPA与中国的合作,麦卡锡说:"我们知道规划能做到什么。""我们知道存在着许多方法让你可以参与其中,参与到你的州中,在中国则是案例省份,以带来一种关于这个问题的紧迫感。"
 "我抱有希望,"她说。"我之所以抱有希望的原因之一是因为我知道在美国我们曾经能够做到什么。"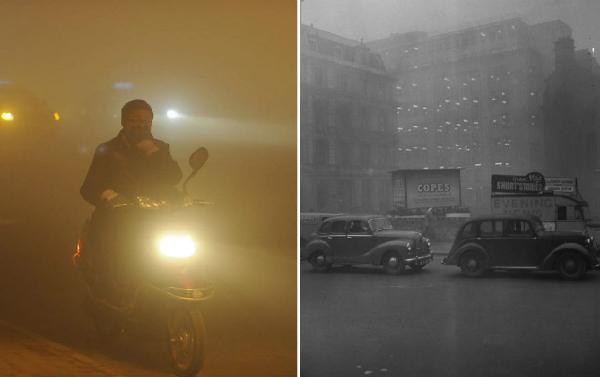 Above left, a moped headlight cuts through the haze in Hefei, China, on Jan. 14. On the right, traffic is halted by smog on Dec. 5, 1952 in London. 
左图,1月14日,合肥,沉闷的车头灯穿过雾霾。右图,1952年12月5日,伦敦,雾霾导致交通停滞。
The United States has set limits on the amount of pollution for daily exposure — breathing air with PM 2.5 of more than 35 for 24 hours is hazardous, according to the EPA's guidelines. That number is even lower in South Korea, Japan, and the European Union. But in China, air quality is classifies as "good" even as PM 2.5 levels creep up toward 100. The skewed metric "takes into account the level of our current stage of development," a minister at China's Ministry of Environmental Protection said in June 2012, referring to the country's industrial reliance on coal. 
美国对于日常暴露的污染量做出了严格限制——根据EPA的指南,24小时内呼吸PM2.5的空气超过35微克是危险的。在韩国、日本以及欧盟,这个数值更低。但是在中国,即使PM2.5水平向100爬升,空气质量仍被归为"良好"。这倾斜的度量"考虑到了我国现阶段发展水平",2012年6月,一位中国国家环保部部长这样说到,指涉了国家工业对煤矿的依赖。
U.S. consulates in China have started monitoring pollution levels and releasing the readings at levels considered a serious health hazard. That has drawn sharp rebukes from China's Ministry of Environmental Protection, which accused the United States of violating international law.  
驻中国美国领事馆已经开始监控污染水平并公开发表读数,读数水平到了严重危害健康的程度。这引来了中国国家环保部的尖锐指责,谴责美国违反国际法。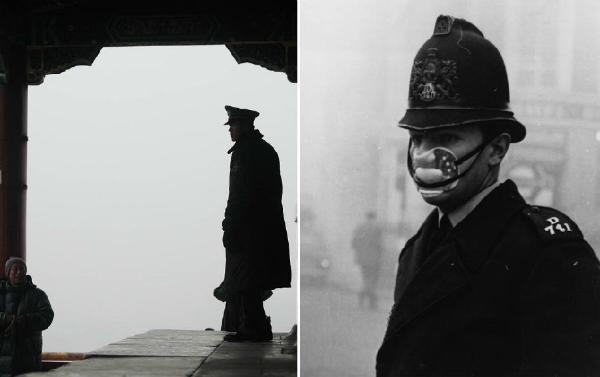 Above left, a Chinese security guard stands amid dense smog at the pavillion on Coal Hill in Jingshan Park, Beijing, on Jan. 10, 2009. On the right, a British police officer wears a face mask while standing in a road in London in 1952. 
左图,2009年1月10日,北京,浓雾之中,一名保安站在景山公园的万寿亭内。右图,1952年,伦敦,一名英国警官佩戴面罩站在路上。
The United States has tried a variety of tacks in dealing with China's rampant air pollution, and some measures — like measuring and publicizing China's deadly air quality — have clearly irked Beijing. Though the United States hasn't stopped reporting its pollution readings, it's also trying a honey-not-vinegar approach. 
为了处理中国那难以遏制的大气污染,美国尝试了各种方针,一些措施显然惹恼了北京——例如测量并公布中国致命的空气质量。虽然美国并没有停止报告污染读数,但也试着使用一种"甜蜜而非酸涩"的手段。
"EPA and the Ministry of Environmental Protection (MEP) in China have a deep and strong relationship," Gina McCarthy said Monday, ahead of her trip to China. "MEP in China knows they are facing significant air quality challenges. They have known that for some time. We have known that as well. For the past 15 years, we have been working with them in depth on ways of addressing their air quality challenges." The United States is well-suited to the task, McCarthy said, because the United States has itself "faced these challenges." 
周一,在她的中国之旅之前,麦卡锡说:"EPA与中国国家环保部(MEP)有着深厚而牢固的关系。""中国国家环保部知道他们正面对着重大的空气质量挑战。他们早已清楚如此。我们也已知晓。过去的15年中,为了找到针对他们的空气质量挑战的解决办法,我们与他们有深入全面的合作。"美国非常适合于这项任务,麦卡锡说,因为美国自身"面对着这些挑战。"
And it's true. China's air quality may be deadly but so, too, were the dark blankets of pollution that hung over major American cities just a few decades ago. In the 1940s and 1950s, streetlamps in Pittsburgh were left on during the day due to illuminate streets that were often darkened by smog from coal-fired steel plants. In addition to the deadly smog episodes in New York in the 1960s, a severe event in the mill town of Donora, PA, in October 1948 killed 20 of the town's 14,000 residents and left half of the survivors ill. 
确实如此。中国的空气质量可能是致命的,但是对于几十年之前笼罩在美国主要城市之上的的深色污染云层来说,也是如此。在20世纪40、50年代,匹兹堡的路灯在日间也仍然点亮,为了照亮被燃煤的炼钢厂产生的雾霾所笼罩的昏暗街道。除了上世纪60年代纽约的致命雾霾期之外,1948年10月宾夕法尼亚州多诺拉煤城的严重事件夺去了该镇14,000人口中20人的生命,并导致半数幸存者生病。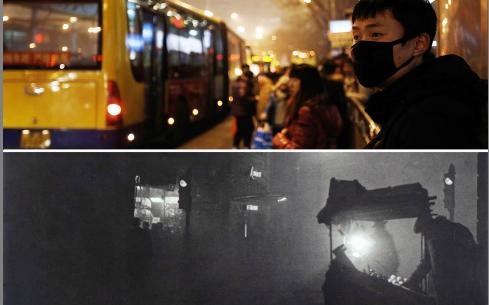 Above top, a man wearing a face mask waits for a bus in Beijing on Jan. 23. Below, the light from a fruit seller's stall illuminates the smog in Piccadilly Circus, London, on Dec. 7, 1952. 
上图,1月23日,北京,一名男子戴着口罩等公共汽车。下图,1952年12月7日,伦敦,水果货摊上的灯光照亮了皮卡迪利广场上的雾霾。
The Chinese government proposed ambitious new anti-pollution measures in September 2013, including reducing the burning of coal near China's industrial hubs, that aim to lower PM 2.5 by 10 percent over five years. Even with the reduction, though, smog levels would remain hazardous according to international standards. 
2013年9月,中国政府提出了雄心壮志的治污措施,包括减少中国工业中心附近的燃煤量,其目的是在未来五年内降低10%的PM2.5。然而,即使成功降低了PM2.5,根据国际标准,中国的雾霾水平可能仍然是危险的。
Above, pedestrians wear masks to prevent breathing noxious smog — on the left, in Harbin, China on Oct. 22, and on the right, in London on Nov. 17, 1953. 
上图,行人戴口罩以防吸入有毒雾霾。左图,10月22日,哈尔滨;右图,1953年11月17日,伦敦。
Chinese pollution has serious consequences for East Asia and the United States. Clouds of smog from China have been tracked across the Pacific, affecting air quality in South Korea and Japan, and even as far as California.
对于东亚和美国来说,中国的污染有着严重的后果。中国的雾霾云行经太平洋,影响到韩国和日本,甚至是美国加州的空气质量。
(文章来源于网络和微信,出处不详,若有侵权请24小时内直接与本网站联系,文章不代表本网站观点。)